Last week, I had the pleasure of meeting with Evelien van Damme and Diego Sartori. Both work in the CitizenM Support Office. Don't be fooled, this is what most companies call their Head Office, but at CitizenM everyone serves the Ambassadors (=front line staff) who work in the hotels. Any people not directly working in their hotels work at the Support Office. And do you know what? Their CEO is actually at the bottom of this support pyramid. Revolutionary, but on the other hand so right!
For those of you who don't know CitizenM – they are a hospitality company born out of the frustrations business travelers and weekenders experienced in more traditional hotels. You can find their mission statement below.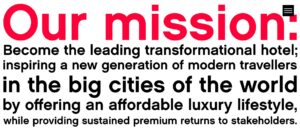 I was blown away by the passion both Evelien and Diego exhibit for CitizenM guests; something I honestly have never experienced before at other companies. While talking with them, they explained to me the CitizenM DNA, which comes down to their 5 core values:
Passionate attitude
Smart thinking
Contemporary style
Genuine touch
Real Caring
At CitizenM all employees live & breathe these values. It starts during the hiring process, which they call Casting Days and has similarities with the X Factor show. CitizenM doesn't hire people (necessarily) with a hospitality background, they hire for personality. And they use a bunch of very cool recruitment techniques to figure out someone's personality.
Who is Your Hero? Asking potentials to share their hero stories helps them figure out whether people are able to open up and share emotions.
Blind Tasting. Tasting something without knowing what it is and then describing it to peers (without telling what you think it is), lets them see how people communicate
They have potentials create a moodboard explaining what CitizenM is and isn't, to figure out if they understand the concept and company values.
After recruitment everyone is trained in these values, they even get to experience them firsthand during their Experience Shift and Experience Stay. An Experience Shift is literally being an Ambassador for a day and shaking cocktails, preparing breakfast and doing basically anything required to give the CitizenM guests a blast of a time. The Experience Stay is when employees themselves are guests in a CitizenM hotel, so they too can experience the various parts of the customer journey and really feel what it is like to be a guest at CitizenM.
It doesn't stop there – employees call each other out when they notice that they aren't living up to the CitizenM values and Diego shared, that just last month during a Team Day 2 colleagues prepared a workshop to discuss which values they were living up to and on which values they needed to work.
We talked about lots more, but I wanted to share these particular items with you, because to me this makes CitizenM an outstanding CX Leader in the area of Customer Obsessed Culture. We'll be back in a next blog to share the Factors of Influence you have as a company to create a Customer Obsessed Culture.